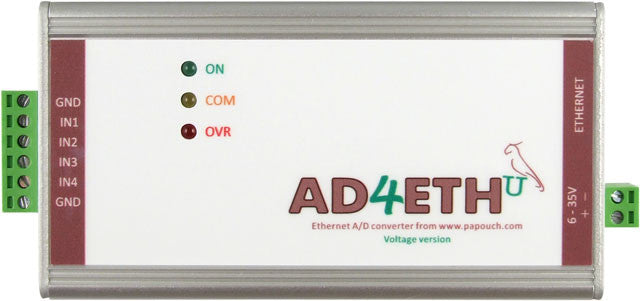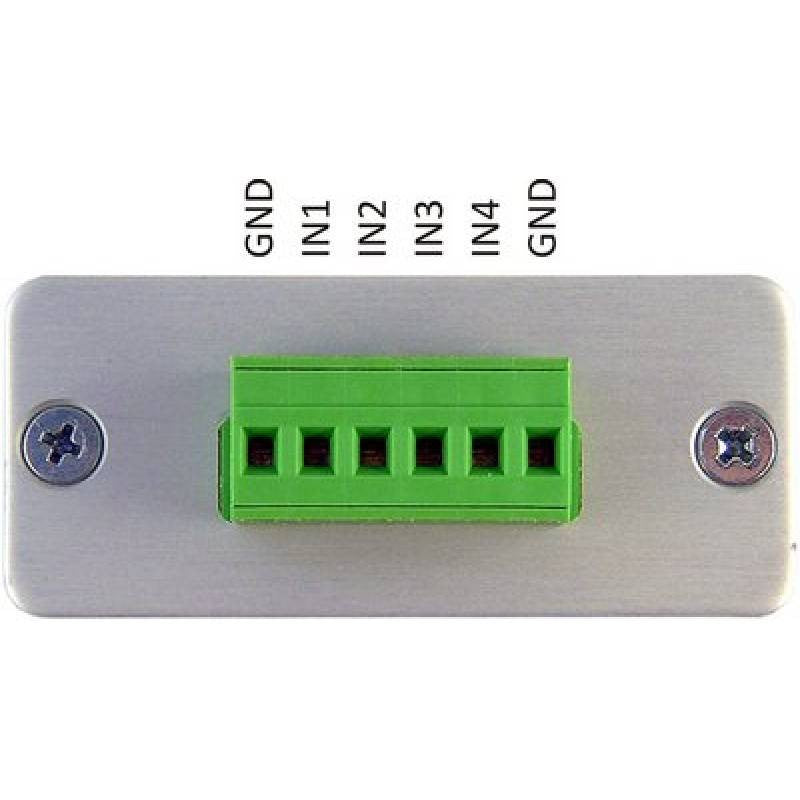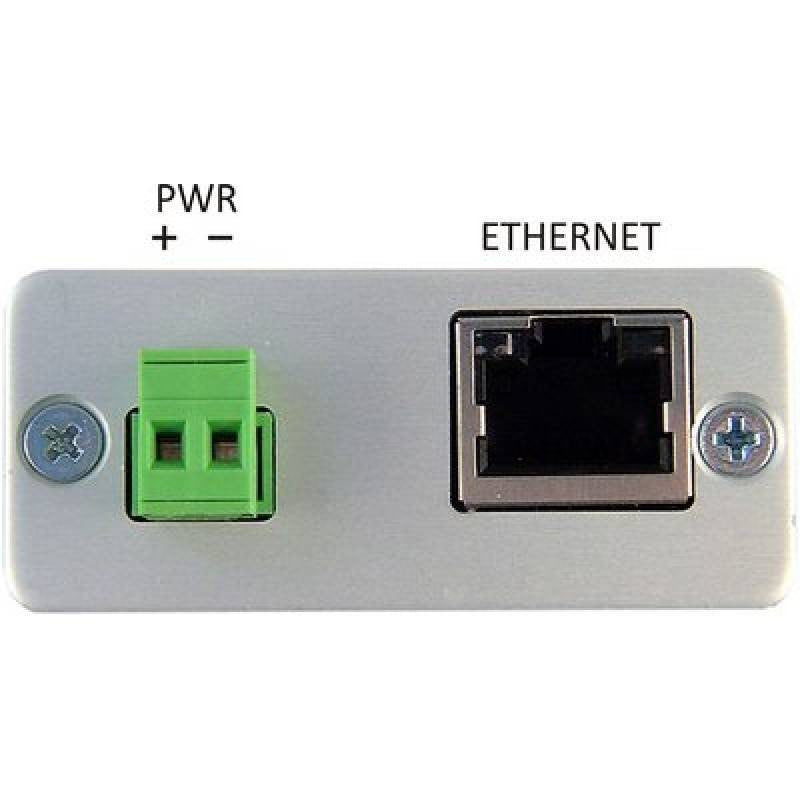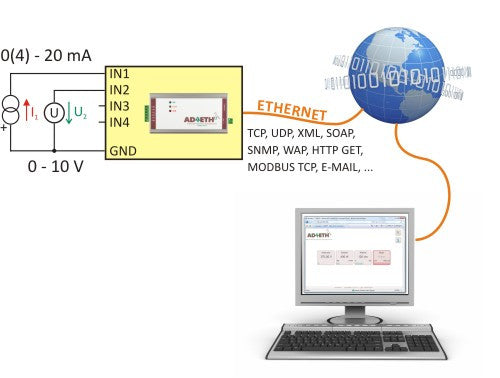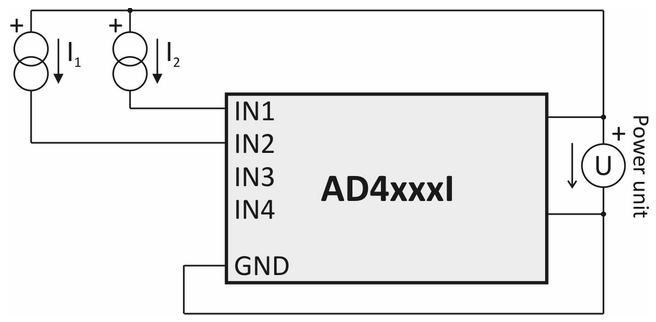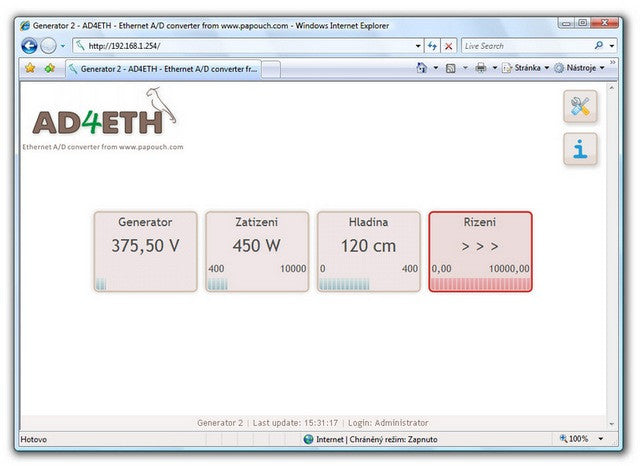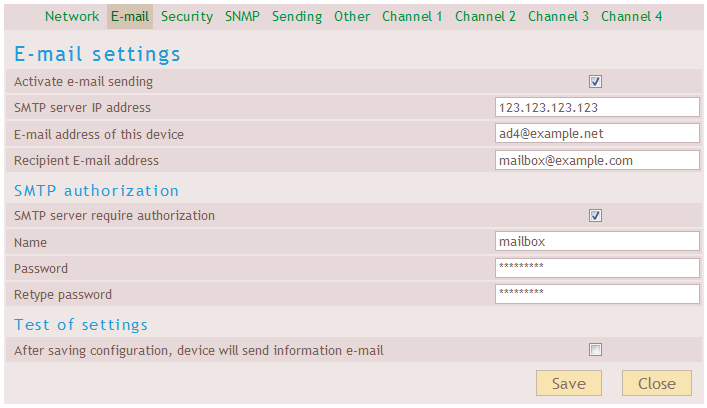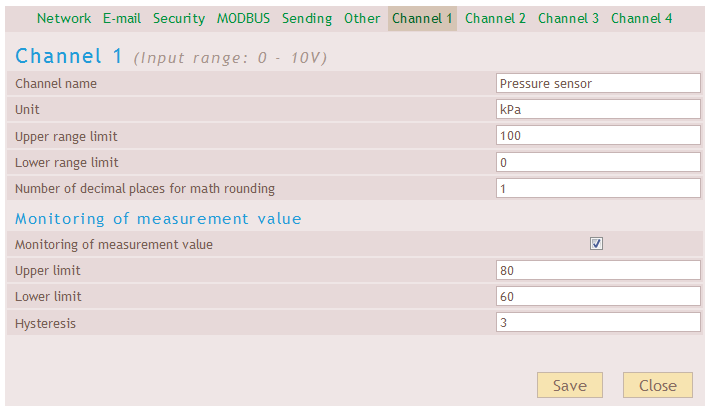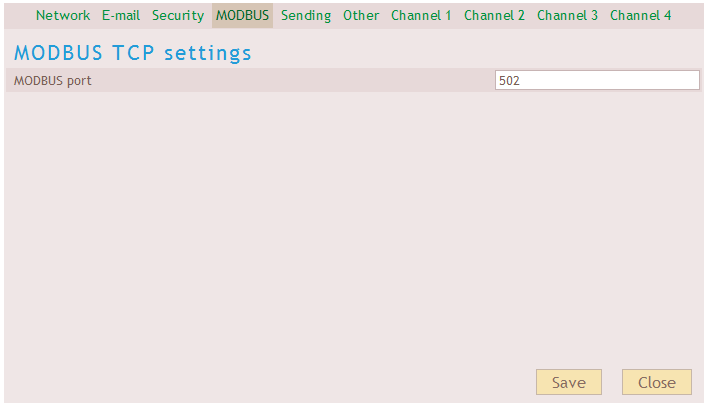 AD4ETH - Analogue measurement module to Ethernet with four inputs for unified signal 0 - 20 mA, 4 - 20 mA respectively.
Analog measurement module AD4ETH is a four input A/D converter allowing you to measure up to four analogue signals 0-10V or 0(4)-20mA. Measured-out values can be viewed via a WEB interface, AD4ETH also supports TCP, SNMP, Modbus and many other protocols.
Default input range is 0-10V or 0(4)-20mA, but it ican be modidied to suit your application upon request. Please contact us to get a custom measuring range.
Features of Ethernet A/D converter
Four analogue inputs for voltage or current
Each channel can have different range (upon request)
Measuring range split into 10 000 pieces
Mesuring rate: twice in a second for each channel
Communication via Ethernet (LAN computer network)
Wide power supply voltage range: 7 - 30 V DC
Measuring is based on a single multiplexed 16 bit sigma-delta A/D converter
SNMP, MODBUS TCP, TCP (Spinel), UDP (Spinel), HTTP GET, HTTP POST (SOAP)
Internal WEB server
WAP pages for mobile view
Measured data in XML format for easy processing in your own application
AD4ETH supports sending the data in XML WEB service format by SOAP protocol
A/D converter can automatically send the measurements to your server in an HTTP GET request body.
E-mail notifications when a preset thresholds are exceeded.
Real units calculation functions - you can see the values as a pressure, height, distance, temperature etc.
Supplied with 240v Australian plug pack.
No subscription fees to use the device, ever.
Measurement software for windows as a free
Usage of IP A/D converter
Digitalization of measured-out values from gauges with unified voltage or current ouput
Reading or sensors with unified signals
Reading values from flood sensors, pressure sensors, thermometers, height sensors etc.
No active internet connection required to use this device! It can be used on closed and stand-alone networks.

FREE Express Shipping for all orders in Australia over $250, calculated during checkout. Please see our Shipping Page for more detailed shipping pricing and information.
Want more information about how this converter device works? The AD4ETH instruction manual PDF is available here to download.