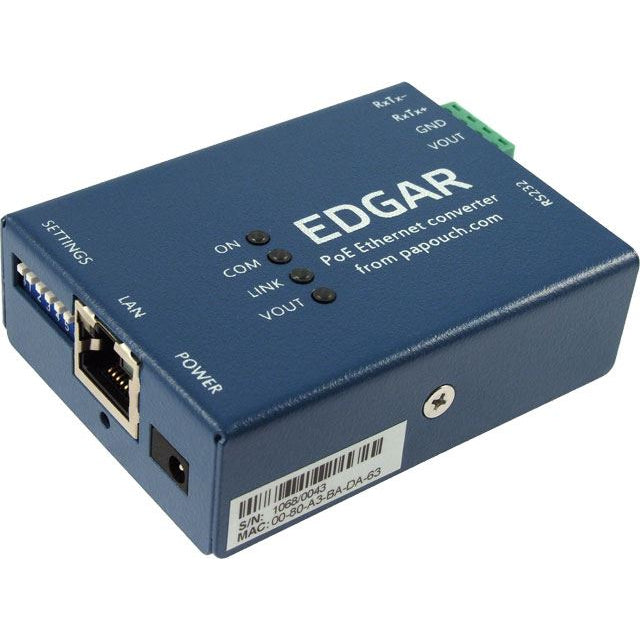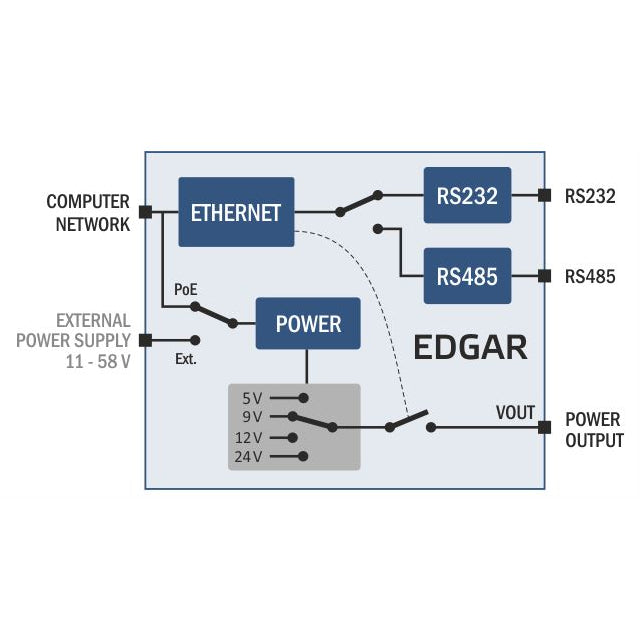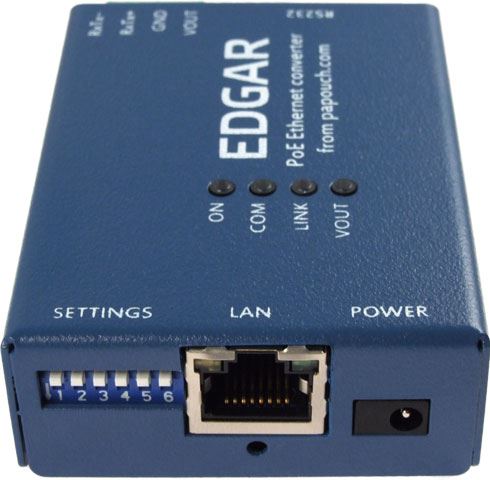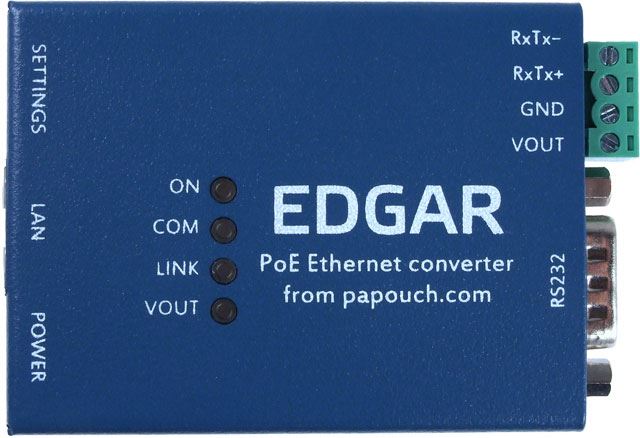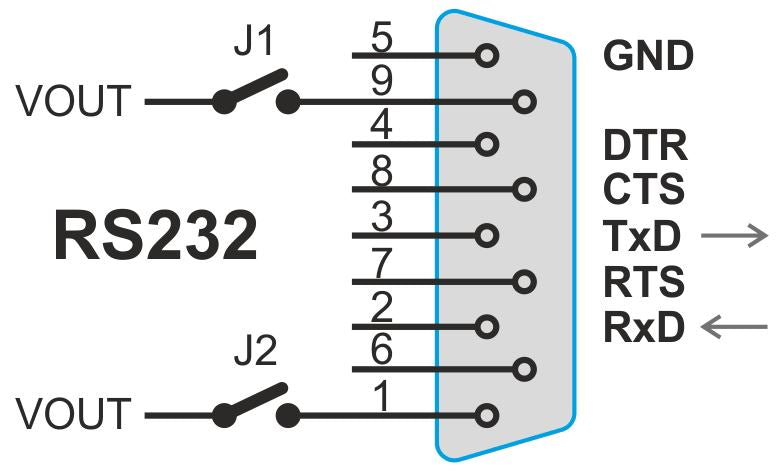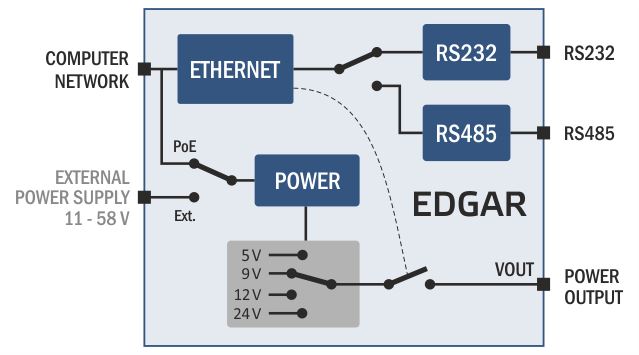 EDGAR PoE Ethernet Serial Device Server RS232 RS485 RS 23285
From Nov 2020, we now offer a 5-year back-to-base warranty on this product!
EDGAR PoE Ethernet Serial Device Server
(NOW IN STOCK - Need more? Please contact us)
PoE Ethernet serial server supporting RS232 or RS485. Edgar is powered from an Ethernet cable using PoE 802.11af standard of from an external power supply (11 - 58V). Power output VOUT for powering an external device. TCP, UDP and HTTP GET protocols. Easy configuration via responsive web interface.
What makes Edgar unique?

Dual power - it can be powered from PoE 802.3af or an external power supply (11 – 58 V DC).
Power output - Edgar can power an external device using its VOUT terminal. It means PoE can be used both for the converter and other device as well. The Voltage Output can be 5, 9, 12 or 24 V. It is possible to switch it on or off via a web browser.
HTTP GET communication allowing an easy access to the serial port from a WEB server.

For the communication, TCP server, TCP client or UDP can be used. In addition to standard types of communication, Edgar can send packets from / to the serial line via HTTP GET. From a web server, the data packet can be sent as an HTTP GET request. Similarly, if the data on a serial line - for example, from a connected barcode reader - comes in, the converter can send the data to the web server as an HTTP GET request.
PoE serial server applications
Connecting devices communicating via serial line to Ethernet (or Wi-Fi using Wi-Fi model).
Communicating with remote devices using Internet.
Easily connect your legacy devices to computer network.
Cable management improvements – connects to Ethernet and power supply using a single cable.

Edgar features
Converts serial line to Ethernet
Powered from PoE or from an external power supply (11 – 58 V)
PoE standard in compliance with IEEE 802.3af
Can be powered also from "passive PoE" (44 – 57 V)
Power output for powering an external device can be 5, 9, 12 or 24 V
Power input is galvanically isolated from other parts of the deivce
Easy configuration using web interface
TCP, UDP and HTTP GET protocols
User selectable interface RS232 or RS485 (DIP switch)
Virtual serial port - an option to use Edgars serial port the same way as computers serial port
Used signals RS232: RxD, TxD, RTS, CTS, GND
Used signals RS485: RxTx+, RxTx-
Indications for power, data transfers, connections and network activity

Power Output VOUT
Power output VOUT is mostly used in situations where the converter is powered from PoE. VOUT power output can power the connected device as well. Therefore no additional power supply is needed for the device connected to it.

Power output is DC and the voltage is determined by the switches on the side of the converter. Power output can be switched on or off using the web interface. The output voltages can be selected using a DIP switch on the side of the device. You can chose from the following options:


5 V / max. 630 mA
9 V / max. 350 mA
12 V / max. 260 mA
24 V / max. 130 mA
How does HTTP GET work in an Ethernet converter to a serial port?
This feature allows data from the serial port to be sent as HTTP GET requests to a remote server. In the reverse direction, the data from the remote server can be sent to the serial line directly by replying to the GET request sent by the converter.
HTTP GET from Edgar to server and response with data to serial line

The connection can also be initiated from remote server side. The server sends HTTP GET to the set.xml script in the converter. Data can be sent as an ASCII character string or using hexadecimal form as binary data.
HTTP GET from server to converter

GET communication can be optionally secured with 128bit AES encryption.
No active internet connection required to use this device -- it can be used on standalone and closed networks.
FREE Express Shipping for all orders in Australia over $250