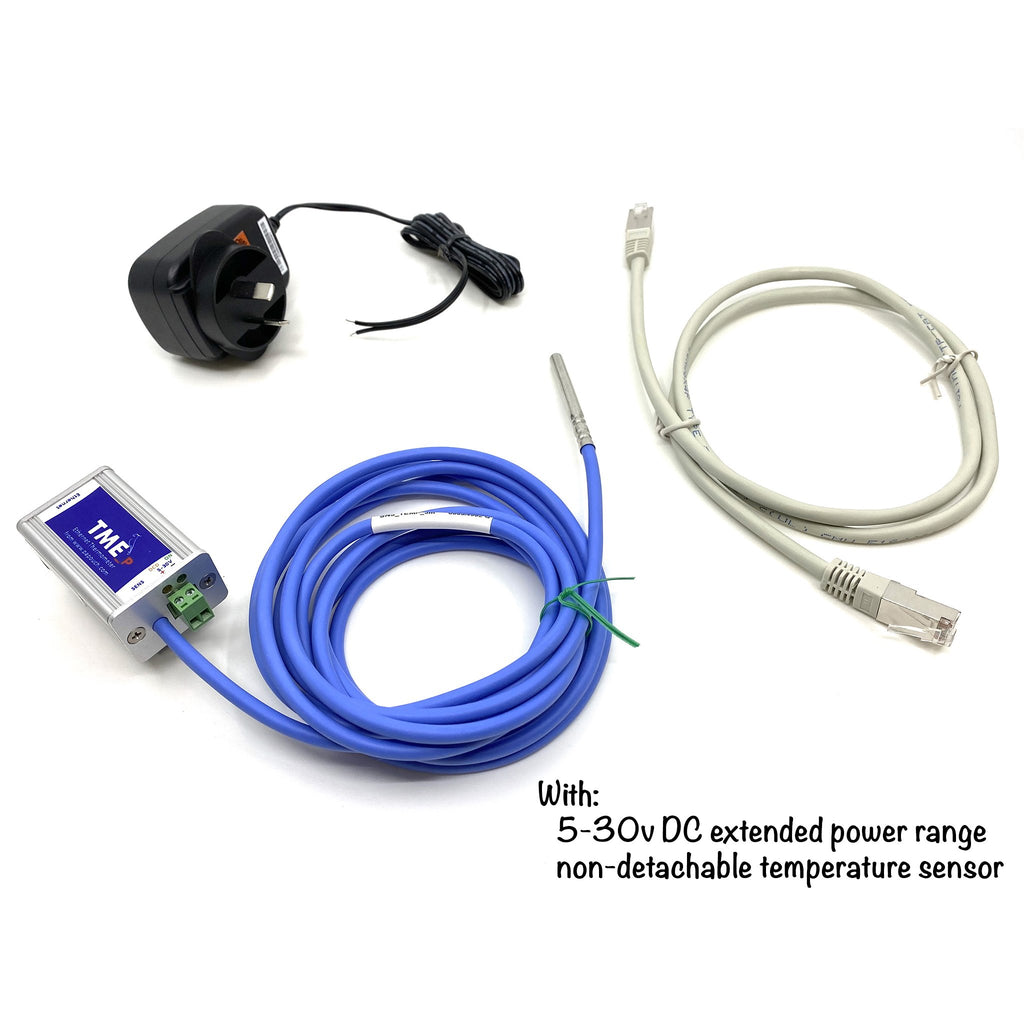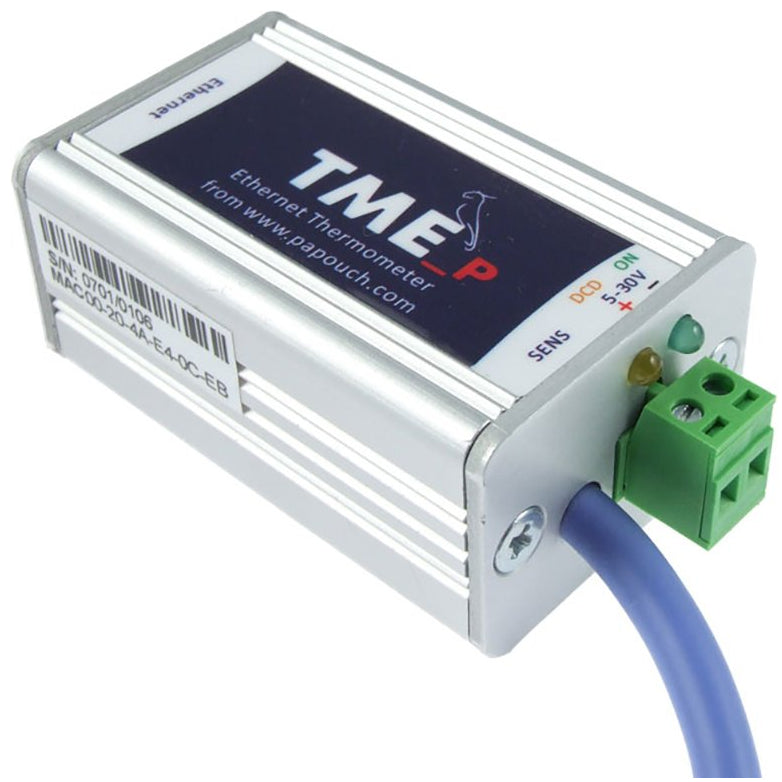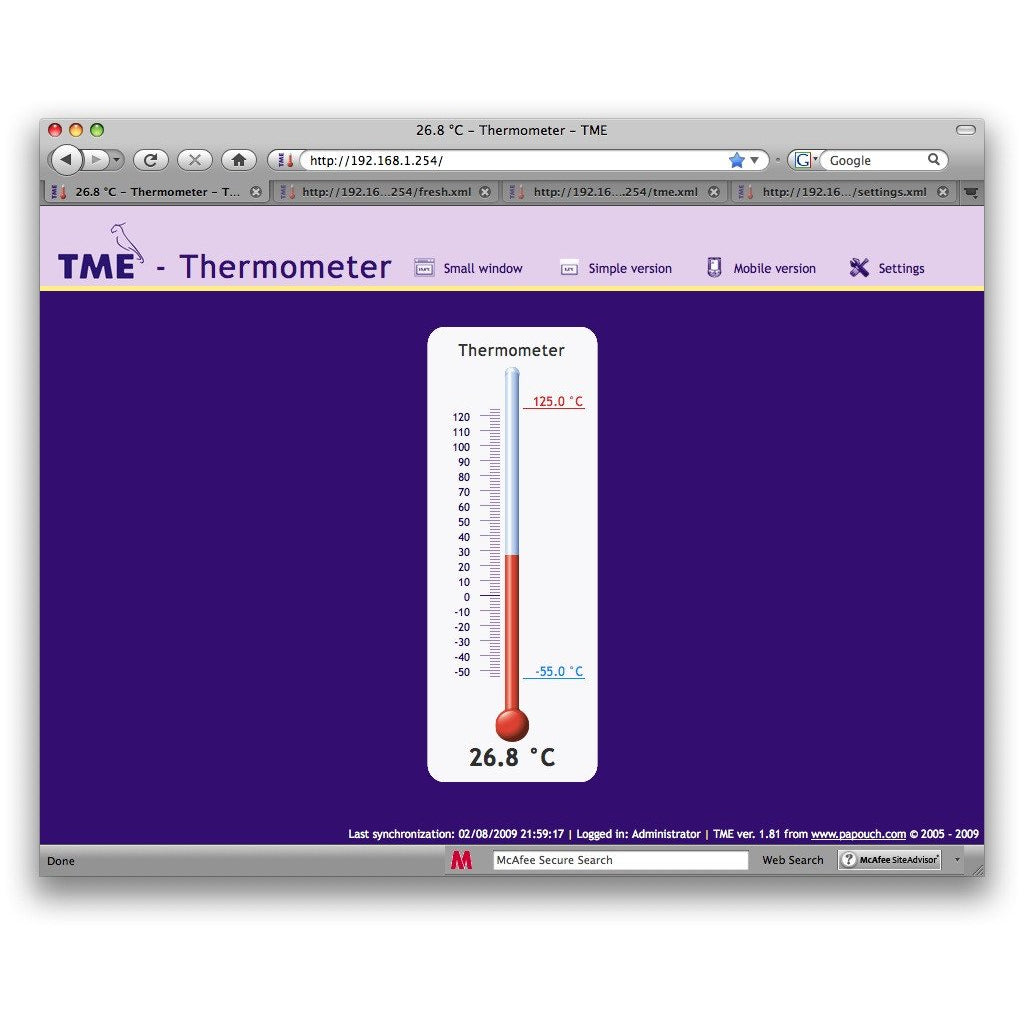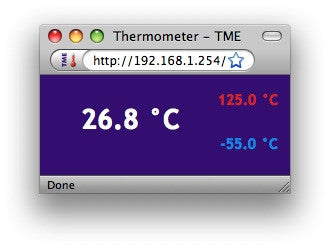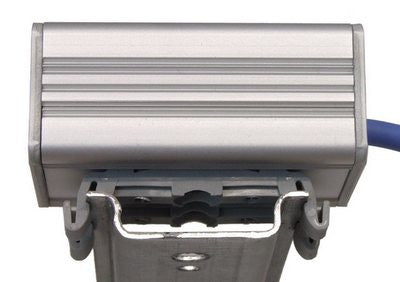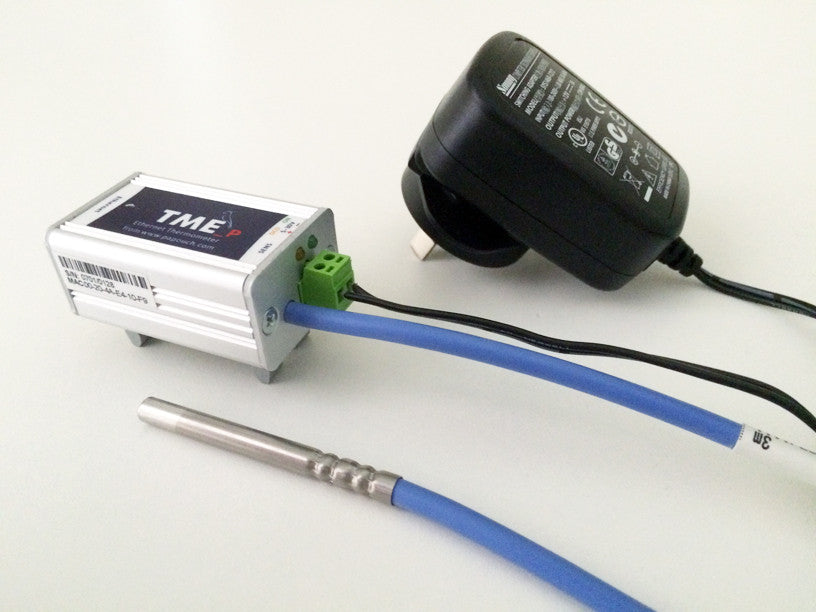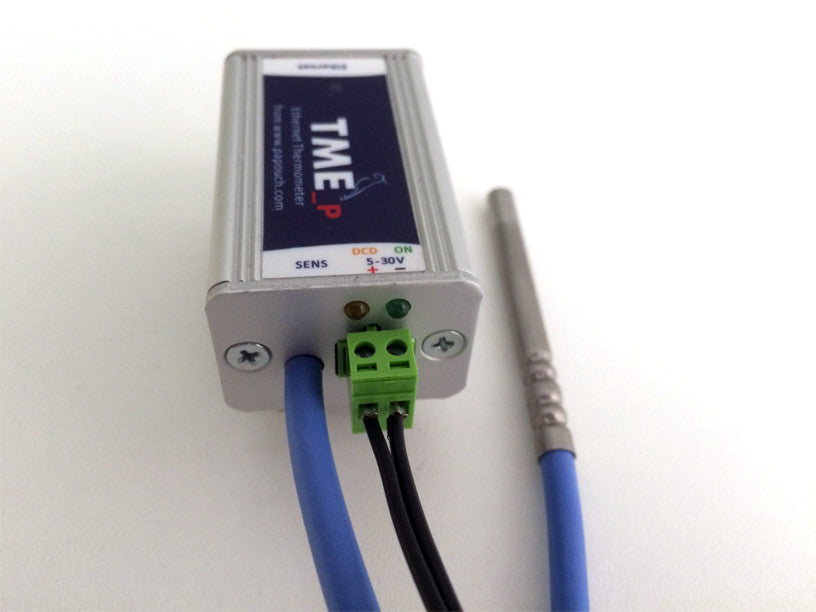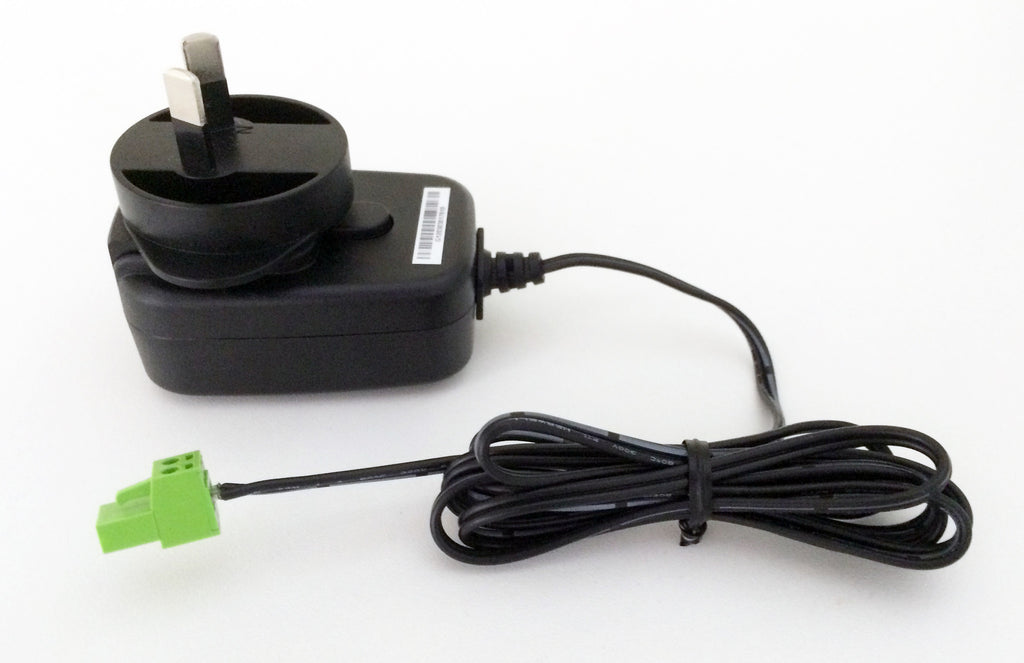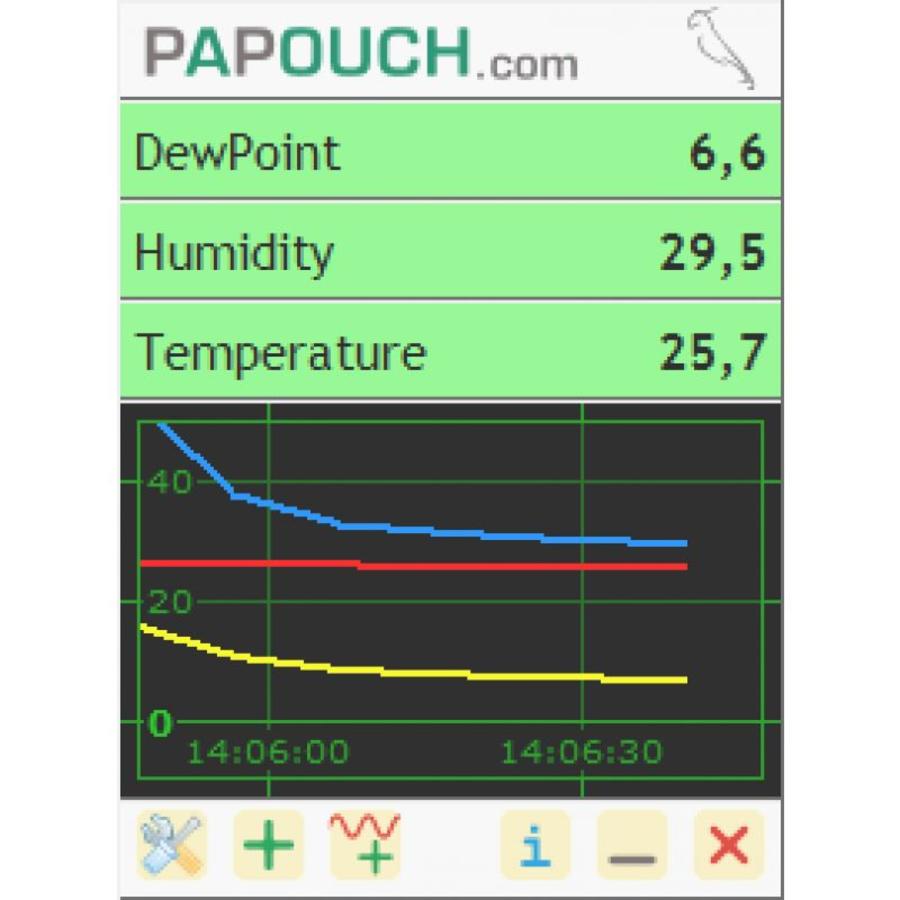 The TME-P-DIN-Rail Ethernet IP Temp thermometer 5-30v terminal DIN mount email alerts
3-year back-to-base warranty on this product. Extendable to 6 years!
Key product features snap-shot:

Graphing capability using free WIX graphing software. Wix is available for FREE download from our downloads section
FREE EXPRESS Shipping for all orders in Australia over $250
Small discrete size (64 x 33 x 34mm) aluminum unit
Sensor: 1x stainless steel tipped sensor (60mm long, 5.7mm diameter) on a 3m lead, permanently attached to Ethernet unit.
Temperature sensing range: -55˚C to +125˚C
Weight (not including sensor): ~150grams
Mounting: DIN RAIL mount built-in
Power connection: screw-terminal block
Network connection: Ethernet (1m direct patch lead included)
Standard functions: Email alerts (SMTP), Web interface (HTTP), SNMP, XML, HTTP Get, HTTP Post, ASCII, MODBUS TCP
Default IP address: http://192.168.1.254/
Web interface for easy setup

Power: 5-30v DC, terminal block connection. Despatched with a 12v DC Australian 240v power supply
All Australian orders despatched within 1 business day - EXPRESS
Ethernet based (IP networked) Temperature Thermometer. EXTENDED POWER RANGE 5-30v. Screw power terminals block. DIN-Rail mount. Ethernet lead, Australian 240v power supply, software CD, setup guide, and temperature probe on a 3 meter lead. Measure temps from -55C to +125C. Email, SNMP, HTTPGet XML, HTTP etc. Send SMS alerts using an email-to-SMS alert provider such as utbox.net
Our perfect tool for temperature monitoring in server rooms, communication cupboards, laboratories, farms, schools, universities, businesses or many other applications (including surveying equipment where temperature readings are required). This
TME-P-DIN-RAIL
variant of the TME range is the perfect model when you have a 5-30v DC power supply handy, rather than an AC power source.
The TME-P-DIN-RAIL can easily be installed inside a custom enclosure, including a Stevenson Screen in railways, in telecommunication towers, or inside roadside telecommunications equipment cabinets.
We supply a standard Australian 240v power supply (with screw-terminal flying lead ends) to allow the TME-P-DIN-RAIL to be tested / configured, before deployment in a DC power only area. (Other country power supplies with screw-terminal flying lead ends can also be ordered - please contact us below for more information).
No subscription fees to use the device, ever.
No active internet connection required to use this device -- it can be used on standalone and closed networks.
Express shipping (within Australia) is free for all orders above $250, and is shown during the checkout process. Please see our Shipping Page for more detailed shipping pricing and information.
Want more information about how this temperature alerting device works?
The TME Ethernet Thermometer instruction manual PDF is available to download here.
A comparison of our top models is available on our Ethernet thermometers Comparison page.